What a fun week we had at MCS, playing
Jeopardy!
at lunch (here's
my full game
, btw icymi),
I need a new "Hmmm..." face, I think!
3D printing during Genius Hour, and taking care of business the Gagner Gang way. In fact, our normal course of said business has yielded two, count 'em
two
, requests for proposals for the Dynamic Landscapes educational conference, which will take place in late May at Champlain College. I will write one proposal as part of my work with the ANESU curriculum and personalized learning committee and another on behalf of our Genius Hour/makerspace program, which will be a place for the students to jump on board too. Speaking of which, no word yet on when we'll be on the news (again).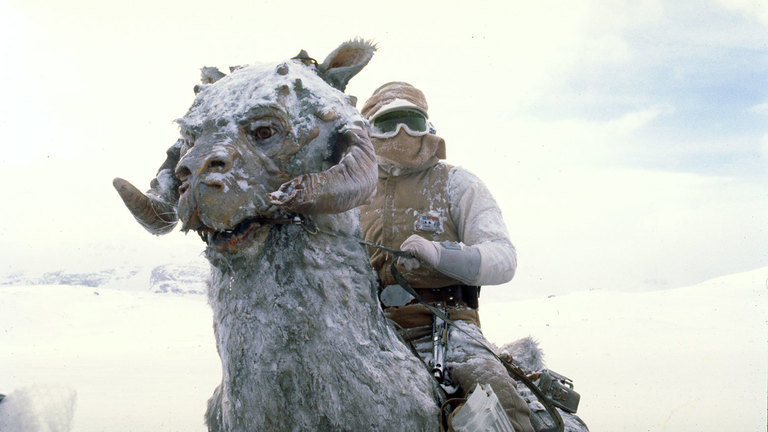 All of this is in spite of the fact that unseasonably frigid temperatures have kept us inside for recess and body breaks--save a day or two here and there--going on four weeks. It's a testament to everyone's ability to manage stress without that tremendously important physical outlet of getting outside to run around, though I know some kids are starting to fare better than others. To that end, I wanted to share an
article
about the importance of outdoor play in all weather. At school, we have regulations about low temperatures and wind chill factors pertaining to bringing kids outside, and they are important to attend to. It's true that some days, no one has business being in the elements unless they are packing an emergency tauntaun, but with the right gear, a quick jaunt into the snow is mostly possible and should be taken advantage of. I hope at home, where the constraints of winter weather regulations are not present, that the kids are getting even just a few minutes of outside time into their days and weeks. The weather has made it hard to offer this important outlet during school hours, but that doesn't make it any less important to try to achieve by any means possible.
Next week is all she wrote before February Break. January and early February have been five weeks of stops and starts with snow days and in-service days chopping things up quite a bit. It hardly seems possible that we get a week off when we have scarcely had a full week of school since before Christmas! It might be nice, though, for February Break to act as a <CTRL+ALT+DEL> for the rest of winter. I'm certainly hoping that the weather shapes up and stops blocking us from getting all of our work done before the Fourth of July. Many more blizzards and snow days and who knows when we'll finish this year!
Talking of ending the year reminds me that we haven't chatted too much about the end of the year field trip. Many of you know that this is a highly anticipated part of the MCS experience and with things being what they are, more and more creativity is being required when it comes to fulfilling the expectations of that storied tradition. Last year's trip to Camp Common Ground in Starksboro was a direct result of that need to downsize and this year's event will consequently be pared down even more. Right now, we are looking at being able to provide a full day of fun to celebrate the accomplishments of the year; an overnight will not be possible given the resources we have available to us. The cost to families will be similar to what it was last year and that will comprise the budget of the trip in its entirety. After Ms. Pierpont and I get the details settled, we will be back in touch with our plan for that day in June and we will be sure that we have the most fun possible, shoestring or not.
Back to the present... We will close a regularly-scheduled week with an un-Valentine's Day Party on Friday afternoon (it's Friday the 13th, too!!). The kids have decided to be mellow and just watch a movie and maybe have some snacks to celebrate. Valentines have been declared optional (though most are excited to continue this tradition, so they aren't too cool just yet--bonus!); students wishing to bring them to classmates must make sure there is one for everyone. I remember names by table groups and have encouraged kids to do the same. There are 20 students total, so if a name or two just won't come to mind, we can certainly fill in the missing ones on Friday morning. In keeping with the mellow vibe, I am not going to do a full-on Sign-Up Genius for snacks. Instead, if you are able to send in some crackers or chips for the gang to nosh on while we kick back with a flick, we would gladly receive it with thanks. I have enough unopened juice from the Holiday Party to round things out.
There are a couple of logistical things to share before I close. The first is that I have tightened up my policies on tardiness (throughout the day, not at arrival time) and turning in homework on time. This has worked really well to help most of the gang increase accountability and personal responsibility (a little chocolate from time to time doesn't hurt either!). As the 100th Day of School approaches, it's important that students understand the role of mindset and focus in their own success and that we control a lot more of our destinies than we give ourselves credit for. Being on time, prepared, and attentive are life skills that it's never too early to build and grow. Students are also learning that, if they have good track records for turning in work and being engaged in class, there is flexibility when they forget an assignment or otherwise have a moment. (And I like to think the intrinsic reward of having a relatively stress-free day due to preparedness is even more motivating than a Hershey's Miniature, but then again, I'm no big fan of sweets.)
We also have schedule changes to report. Ms. Esterline and I have moved our weekly Library time to last thing on Wednesday after a one-time move led me to notice that this was a possibility and would let us have a bigger chunk of uninterrupted time for Book Clubs on Thursday afternoon. We have moved Community Council to Thursdays right after lunch and will close the day with Book Clubs and Literacy Workshop. We are putting Current Events on hold for a bit (though will probably pick it up during Thursday's Literacy Workshop since it is such a popular part of our week) to be able to have our six-week session of Guidance with Ms. Fisher.
Sixth graders will be familiar with some of the content from Ms. Fisher's upcoming sessions and are being miraculously mature about the idea of discussing aspects of puberty and adolescence once again (mostly because they get to act as an older sibling toward the fifth graders about this delightful part of getting older). Ms. Fisher's workshops will create questions and curiosity and are a great way to move one step closer to "The Talk," if you haven't had it already. I might offer a friend's technique of using a really long car trip with her child as the venue for this discussion. Now that's what I call a captive audience! Below is a letter from Ms. Fisher about the program. If you have any questions about it, please contact her directly.
Dear Parents and Guardians of Fifth and Sixth Graders,
Welcome to Spring 2015 ⅚ Guidance Workshops. As happens every year at MCS, guidance workshops start in the fall for K-4 , with the ⅚ classes beginning their program in the new semester. The guidance program uses the researched-based curriculum called Second Step which focuses on empathy, emotional management, and problem solving skills. In addition, all K-4 students are taught the "De Bugging" system, a basic problem solving method used in other ANESU elementary schools. Your ⅚ students will begin participating in class workshops next week, starting on February 11th. This will be their 4th year of Second Step guidance classes.
Guidance workshops for Ms.Gagner's and Ms. Pierpont's classes will focus on some of the same main themes as the younger students, delivered at an age-appropriate level. Also, guidance time will be used to cover the basics of puberty, physical development, and reproduction. Hopefully, you have had many conversations with your student regarding this time of rapid change and development, so these concepts won't be brand new. We hope that workshops on these topics make it easier for your child to discuss these important issues with you.
Empathy and emotional regulation skills are clearly an important part of a student's toolbox for success, as noted by our ANESU district ENDS Policy and cited by many experts as the key to creating safe, bully-free environments. Enclosed please find a copy of the overview of the Second Step concepts. These ideas also interface nicely with our school focus on Responsive Classroom.
Please encourage your student to tell you about our guidance workshops (on Wednesdays this year), and please don't hesitate to contact me with your questions and ideas. If you are interested in learning more about the Second Step Program, you can join www.secondstep.org with the activation key
SSP1 FAMI LY71
to watch videos about the program and read more about the research behind this curriculum. (You will need to set up a username and password to create an account).
Thank you for all your support as we embark on our guidance and health workshops with the ⅚ classes this year. I look forward to working with the ⅚ classes.
S.T.E.P. Problem Solving System
→
S= Say the problem without blame; T=think of solutions; E= explore options P=pick a solution.
DeBugging System:
Use an "I feel" statement

Look away

Walk away, move away

Use an assertive "please stop!" message

Get help, and make sure you let the adult know all the steps you've taken to solve this problem.